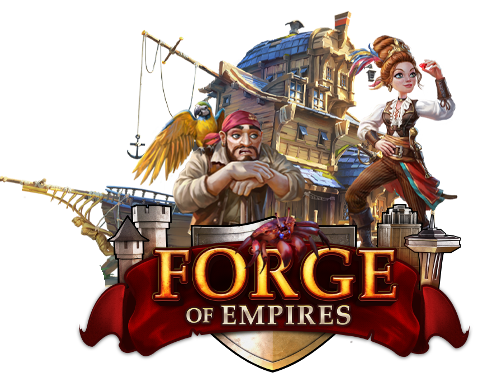 Dear Kings and Queens,
Shiver me timbers! Dare ye brave the shark-infested waters of Forge Island in search of treasure? It's time to hoist the sails and set a course for Forge Island - the Wheel of Fortune awaits!
The Summer Event begins on July 13th and runs until the 3rd of August!
Ahoy me hearties! Forge Island's governor is preparing to welcome you back to the festival once more. Listen to his tall tales and finish his quests, and he'll reward you with access to the infamous Wheel of Fortune, along with some shiny gold doubloons to spend!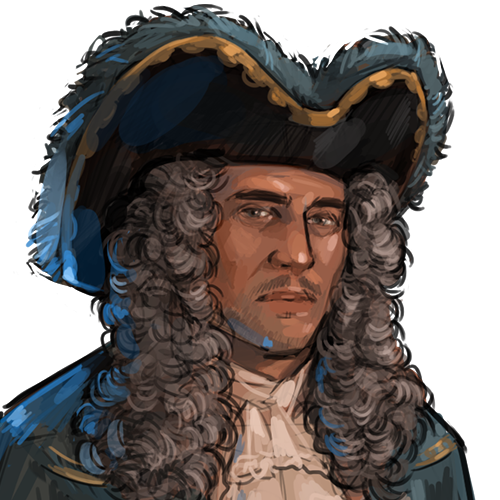 Jane and her pet parrot will also return to lead you on some crazy adventures. Finish her quests to find buried treasure and be rewarded with doubloons to spend on the Wheel!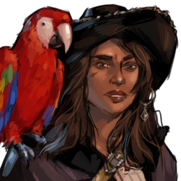 There are 34 rush quests and 21 daily quests available in total!
The Wheel of Fortune!​
To open the Wheel of Fortune, click the banner in the top left corner.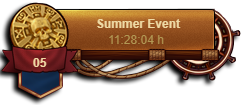 Up will pop your event window containing the Wheel. You will see options here to "Spin" or "Refresh & Spin", each costing one Doubloon. Pressing "Spin" will spin the current wheel and you will win a prize from among those displayed. Pressing "Refresh & Spin" will refresh the prizes on the wheel and automatically spin the new wheel.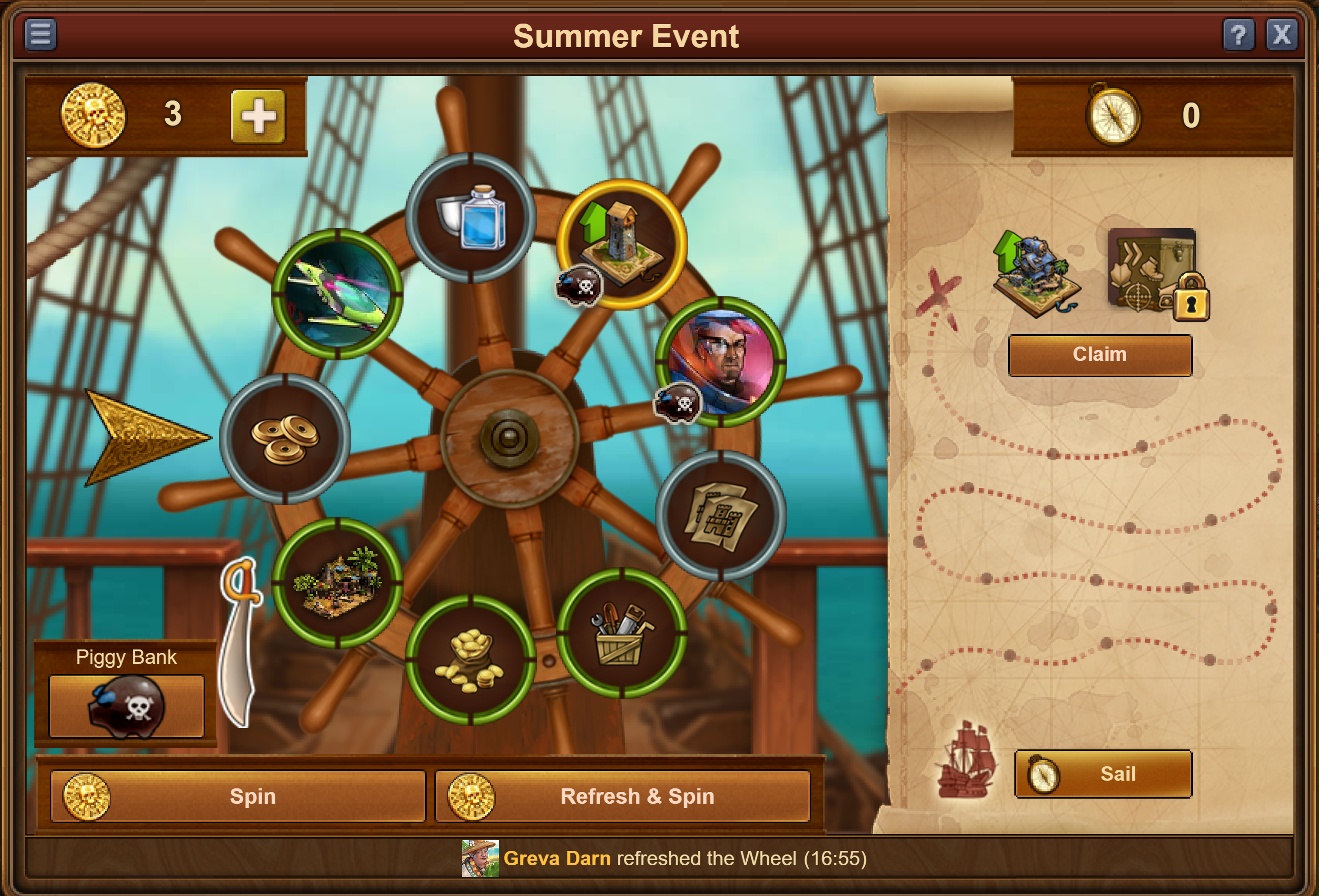 The Wheel of Fortune is shared with your whole neighborhood, so be warned that your neighbors can win prizes from the same wheel as you, and they can also refresh the wheel - so be sure to try and grab your prize first! If all prizes on a wheel are won, the wheel will automatically refresh.
Doubloons!​
Each spin of the wheel costs one gold Doubloon. You can win these from quests, and from random incidents around your city. There will also be a daily login reward as usual!

"X" Marks the Spot!​
In addition to prizes, every spin of the Wheel gives a Compass. Use these to navigate the treasure map to reach the "X" where the Grand Prize is buried! Each Compass will give between 1 and 3 moves on the treasure map, and once you reach the "X", the map will refresh so you can win more Grand Prizes.

The Rewards From the Wheel!​
There are three tiers of prizes available on the wheel; green, silver and gold. Each green tier prize can be won up to four times (indicated by the four bars surrounding the icon on the wheel). Each silver prize can be won twice. The gold prizes can only be won once! These include previous year's special event buildings such as the Pirate's Hideout and the Governor's Villa.
This Year's Grand Prize!​
And now for the moment, you've been waiting for; this year's Grand Prize! Announcing the Privateer's Boathouse!
Every worthy pirate needs a boathouse to match their stature and to stash their plunder! This year's building has 11 levels, with two unique final level iterations to choose from (bonus stats vary by age):
Buccaneer's Boathouse (4x4)
Deadman's Boathouse (4x4)

Happiness
Population
Coins
Medals
20 Goods
Defense for Attacking army
Attack for Defending army
Buccaneer's Bounty:

Inventory Item, that provides:

8 Forge Points
1 Fragment of One Up Kit
1 Fragment of 30% Defender Boost
1 Blueprint

Happiness
Population
Coins
Medals
18 Goods
Attack for Attacking army
Defense for Defending army
Deadman's Bounty:

Inventory Item, that provides:

6 Forge Points
Large amount of Supplies
1 Fragment of 2h Mass Supply Rush
25 Guild Treasury Goods
Summer Bonus Prizes!​
As with previous events, you can also use diamonds to unlock the bonus prizes alongside the Grand Prizes!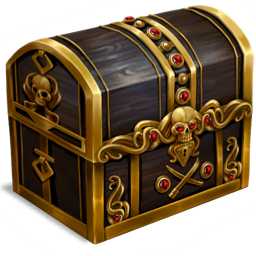 This year we have a brand-new type of building which will be available as a bonus prize. Introducing the Limited Buildings! These buildings will provide special bonuses, but only for a limited time. Once the time allocated for the bonus runs out, the building will function as a decoration and provide Happiness.
In this year's event, we have the Forge Fountain:
| Forge Fountain (2x2) | |
| --- | --- |
| Active appearance | Expired appearance |
| This building boosts your Forge Point collections by 10% for 5 days! | Afterwards, it will still provide 250 happiness. |
Note: The boost is applied to every building individually. Because of rounding, it only works for buildings, that provide 5 Forge Points or more. It does not apply to great buildings.
Piggy Bank!​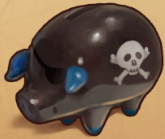 This year, we also have some additional prizes available. Those of you who have played the winter event will recognize this from the reindeer sleigh!
To accrue prizes in the piggy bank, you need only win a prize with a piggy bank next to it. This will automatically fill one slot in the piggy bank with a random prize from the selection pool. Use diamonds to unlock the piggy bank and gain whatever rewards you have accrued. Collecting the piggy bank will empty it so you can start accruing prizes again.
Event Surprise Boxes​
From this event on, due to design changes, we will no longer be giving out the Event Surprise Boxes, but not to worry! Balancing will be adjusted to ensure it is still possible to win a fully upgraded event building even without the box, and without spending diamonds. All previously issued boxes will still be usable, but no new ones will be issued.
Reward Avatars!​
Finally, an event wouldn't be an event without some lovely new avatars to choose from!
| Barnacle Bill | Sally Seadog | Cap'n Dreadful |
| --- | --- | --- |
| | | |
| Questline | Questline | Bonus Prize |
Should you have any comments, questions or concerns, please let us know! We're very much looking forward to your feedback
here
!
Finally, please keep in mind that you can always test our newest features in advance by using our Beta Mobile App. For more information on how to install it, please follow
this guide
.
Thank you for playing Forge of Empires!
Sincerely,
Your Forge of Empires Team
Last edited: