Overlord
Community Manager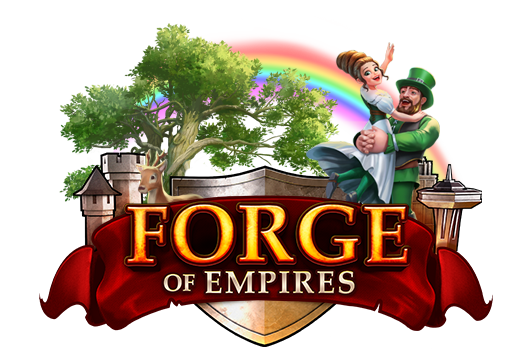 Dear Kings and Queens,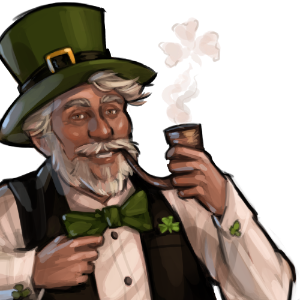 Top o' the mornin' to you! St. Patrick's Day is fast approaching and we need your help to prepare for the celebrations! Paddy McCharms is already on his way to help guide you through the preparations.
The St. Patrick's Day Event will start on January 5th and run until January 27th.
Mechanics​
You'll need to complete Paddy's quests to earn the Pots of Gold needed to navigate your way through the event. There will be 35 rush quests and 22 daily quests. Of course, you'll also be able to pick up 100 free Pots of Gold each day from the Daily Bonus Quests.
Opening the event window will show you an overview map of the event town. To the left of the river is marked the festival and the shipyard, and to the right are a number of factories which each produce items you'll need for the festival. Selecting any of these factories will initiate a production, and when complete you can select it again in order to collect the production. This will add Shamrocks to your stockpile!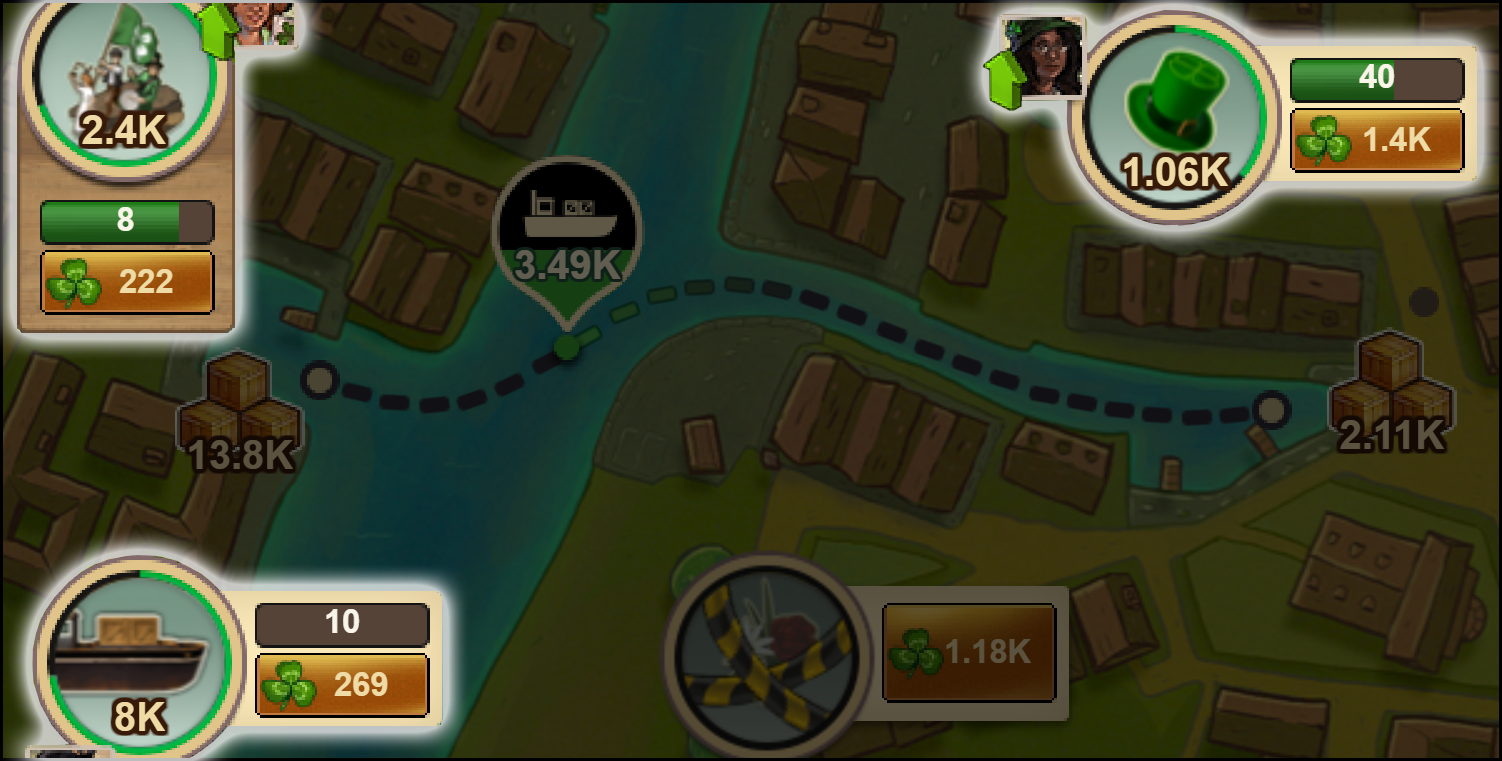 Be vigilant, however, as you will need to transport these Shamrocks to your festival using the ship. Selecting the ship will initiate a voyage to collect and transport the Shamrocks from your factories to your festival. Only when fully collected is the cycle complete!

If you have built up a stockpile of Shamrocks and wish to use them all quicker, you can check the 'max' box. This will automatically invest the maximum amount of Shamrocks in a factory with just one click. You can also spend your Pots of Gold to speed up your productions, and skip 2, 4, or 8 hours at a time.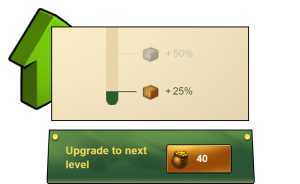 Now that you have all of your factories working, it is time to hire managers for each of them. Select the top hat to hire a manager; this will automate the production of Shamrocks, and also improve the output of the factories. The festival and shipyard can also each have a manager so you can automate the entire process. Level up the managers for even better efficiency!

You now have all the resources you need to start completing some tasks! You can find three tasks at a time at the top of the event window. Once a task is complete, you will be prompted to collect it. Completing and collecting tasks will increase your progress toward the Grand and St. Patrick's Prize. For more information on your tasks, click on the grey arrow to the right of the tasks bar.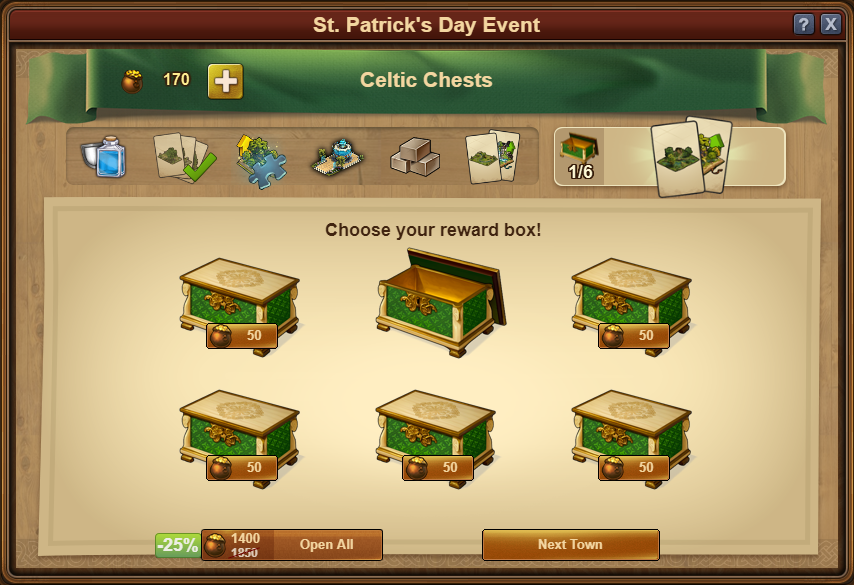 Each time you complete and collect a task, a new one will fill its place until all the tasks in that town are complete. At the latest, you can now move on to the next town by selecting the 'Next Stage' button in the bottom right. You will also have the chance to bag some extra prizes from the end-stage chests! One chest can be opened for free, but if you open all 6 you will win the bonus prize in the top right. Be wary though as each chest will increase in cost, so make sure you have enough Pots of Gold to open the chests you want!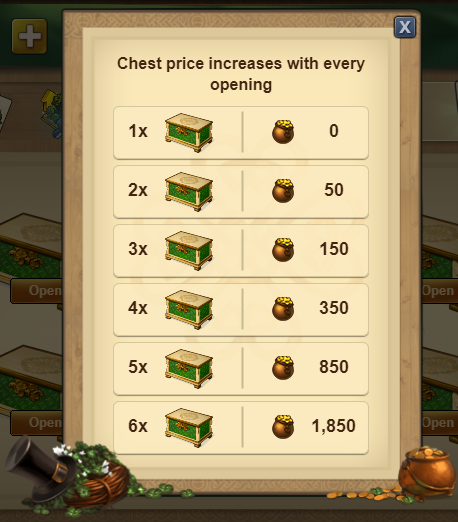 In addition, new this year is a discount for opening all chests at once! The discounted amount will always stay the same, so the more chests you open with this new button, the better the discount!

Too much information to process? Do not despair! In the very first event town, we have significantly improved the tutorial part. Also, you will only need 1 million Shamrocks to proceed to the next town after you finish the first one. Remember: Shamrocks are required to move from one town to another, the tasks are not necessary.
You don't need to collect all tasks in order to proceed and unlock a new town. Starting from the second event town, as soon as you gather 8.4 quadrillions of Shamrocks, you can click on "Continue" to advance and still keep your grand prize progress (in other words, the task progress). Once you've selected your stage prizes, the town progress will be reset and this gives you the chance to start the production over and earn yourself even more Grand Prizes.

This button will light up as soon as you have 8.4Q Shamrocks
Rewards​
The Grand Prize​
No St. Patrick's Day celebration is complete without a shiny new building to add to your city! This year we have a number of new buildings for you to enjoy. The Grand Prize is the brand-new
Druid Hut
!
On level 9
, the Druid Hut provides the following bonuses:
Druid Hut 5x4: Level 9
Bonus: Coins, 9-17% Attack for Attacking Army, 14-20% Defense for Attacking Army, 3 Forge Points, 1 Archdruid Hut Upgrade Kit Fragment
Bonus when motivated: 4 additional Forge Points
Random reward 1: 1 8h 100% Coin Booster (50%) or 1 8h Mass Coin Rush (50%)
Random reward 2: 5 Fragments of a Tree of Patience (70%) or 5 Fragments of a Tree of Vitality (30%)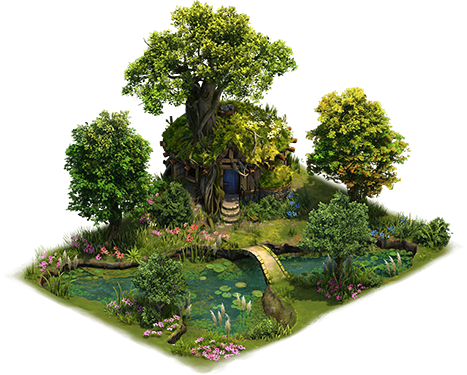 For a little extra boost, you can use the
Archdruid Hut Upgrade Kit.
You can receive the Kit from the
St. Patrick's Event Prizes
– an extra line of rewards, available for a one-time investment in the game, as fragments later on in the Grand Prizes, you get a chance having it in the chests after each town and the Druid Hut level 9 produces one Fragment every day!
Archdruid Hut Upgrade Kit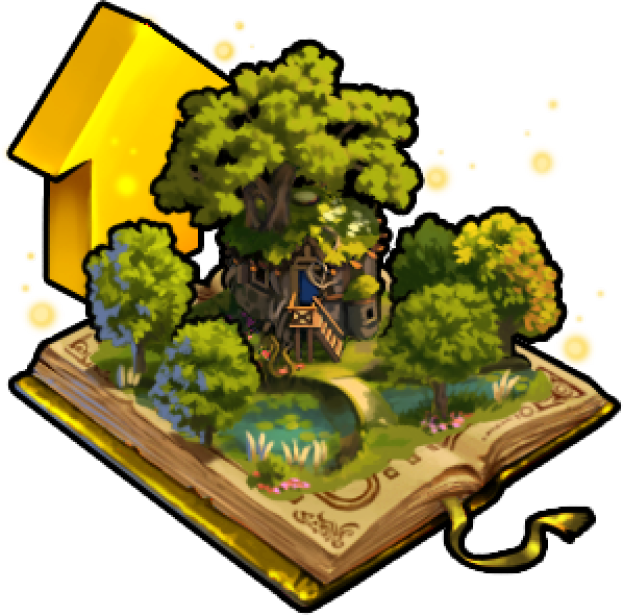 After the upgrade
, the Druid Hut retains very
similar bonuses, providing a worthwhile uplift
to some of the stats, such as Forge Points, army boosts, and chances to produce Druid Tree fragments. The chances to win Coin Boosters and Speedups remain unchanged.
More rewards!​
On its higher levels, the Druid Hut will produce fragments you can use to assemble Druid Trees – small evergreen buildings that provide a noticeable bonus of their own and produce even more useful fragments or items! They can also be won during the Event!
Tree of Silence (100) 1x1
Tree of Patience (100) 1x1
Tree of Vitality (100) 1x1
Bonus: Coins, Attack for Defending Army (up to 4%), Attack for Attacking Army (up to 2%)
Bonus when motivated: 4 Forge Points (50%) or 2 Fragments of a Renovation Kit (50%)
Bonus: Coins, Defence for Defending Army (up to 3%)
Bonus when motivated: 1 Forge Point (75%) or 2 Self Aid Kits (25%)
Bonus: Coins, up to 2% Attack and Defense for Attacking Army
Bonus when motivated: 1 Forge Point, 1 Fragment of a One Up Kit
Epic Selection Kit​
Looking to upgrade that good ol' building of yours? We've got you covered! Also available in the top tier of St. Patricks Prizes is a very special Epic St. Patrick's Selection Kit. It will allow you to choose a base or upgrade for any of the previous years' Grand Prizes, including the Celtic Farmstead, the Druid Temple and more!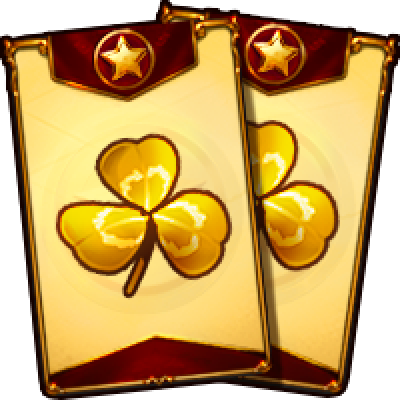 Avatars​
Last but by no means least, we have some new avatars for you!
| Hyacinth | Autumn | Pathfinder | Birdkeeper | Tyra of the Woods |
| --- | --- | --- | --- | --- |
| | | | | |
| Quest Reward | Quest Reward | Premium St. Patrick's Day Pass | Premium St. Patrick's Day Pass | Premium St. Patrick's Day Pass |
Should you have any comments, questions or concerns, please let us know! We're very much looking forward to your feedback
here
!
Finally, please keep in mind that you can always test our newest features in advance by using our Beta Mobile App. For more information on how to install it, please follow
this guide
.
Luck of the Irish to you!
Your Forge of Empires Team
Last edited: