Inhouse Community Manager
Hello Beta Testers,
The Beta Server has been updated to version 1.49. This version contains some Tomorrow Bugfixes as well as some new features detailed below. All active accounts will shortly be credited with 500 Diamonds to assist with testing. Two separate missions have been opened for this update, a mission for the Guild Invite Rework
(click here)
and a regression mission for version 1.49
(click here)
. Please feel free to get involved and earn yourself some Diamonds!
The update brings the live release of Tomorrow. Despite the fact we have had it for a few weeks now, we thought it would be nice to share some of the descriptions of the Tomorrow content.
Up to 71 story quests, taking you on an epic adventure through a new continent
Deal with dangerous Miranda Dolores Feroz, the corrupt Comandante Viroz and the slick businessman Pietro Escovar – who is the mastermind behind the evil crime syndicate?
58 new abortable quests: Play around with a strange device called flux condensator, help Rinbin discover all the uses of a 3D printer and keep the riots in your city under control
Plus: 11 recurring quests from Tomorrow
Build new buildings, themed around a dark surveillance/security setting
Produce drones, rearrange your city using the micro-sized 'pod homes' and gather 5 new goods
Hunt for blueprints for the new Great Building 'Dynamic Tower' that features a powerful new ability for trading players
Invent 'high-tech materials', discover 'nightlife' and enlarge your city by researching 'land reclamation'
Take your army into cities and fight on urban battlemaps, featuring new terrain like houses and rubble
Dominate the battlefields with the mighty 'stealth tank' that is hidden on plain fields
Drop your 'Ultra AP' into combat and wreak havoc and destruction
Or, use the fast and long ranged 'mobile microwave gun' to heat up the opponents, reducing their attack strength
[video=youtube;4H-GPfN1Www]https://www.youtube.com/watch?v=4H-GPfN1Www[/video]
Dynamic Tower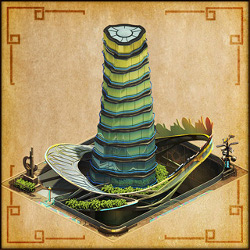 With its slowly rotating floors, Dubai's Dynamic Tower will be a truly marvelous sight. The world's first moving skyscraper will be home to people and companies from all over the world and thus become a place of cooperation and collaboration.
Its intended to be a center of trade and it's reflected in it's special ability: brand new
"Aid Goods"
.

Whenever you aid a building, you get a random good of that building's age. The number of times per day you can do it is limited by the level of the Great Building.
Additionally the Dynamic Tower produces supplies. It's a real treasure for all players who are focusing on trading!
New Army Units

New units and their strategically deep properties will keep you (and your enemies) entertained! The Tomorrow age not only re-uses already existing skills in a new way... in addition we also introduce one completely new skill:

Heat
- Mobile microwave gun will reduce attack value of its target by 20%. So better take it down fast, or you won't be able to do it any more...
Urban Style Battlefields​
For the first time ever we move out from wildlife battle maps. The Tomorrow age battles will take place on urban-style battle maps. You can exploit all the pros and cons of the urban environment.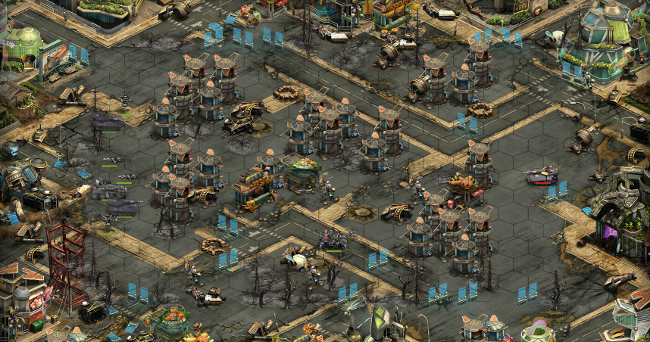 Other changes and improvements
Guild invite improvements
First of all, from now on you will have to research
'Smithery'
technology to be able to join or create guilds.
Of course an in-game info window will pop up when you try to interact with guilds before you're done with the research. But this is of course not the only change...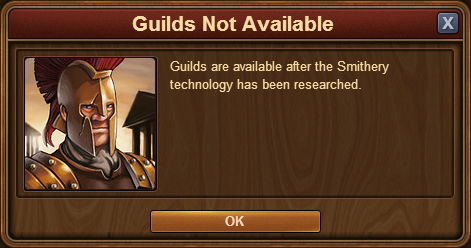 After the update to the new version, guild leaders and founders will notice that some screens changed. The most important improvement is that you can now determine the way new players can join your guild:
1. Invitation only - the "traditional" way, will be set automatically for all existing guilds.
2. Via application - players can "ask" you to join your guild. Guild leaders can accept or reject requests.
3. Auto-join - Guild is open and everybody can join at any time.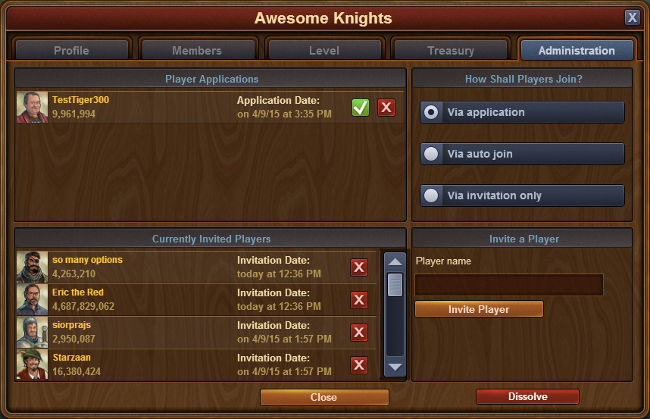 As you can see on the picture above, the Administration tab has just gotten much more useful! Make sure that you use the new possibilities wise.
Life of the players who seek shelter in guilds has also become easier. The guild screen will now let you create a guild, will display all your invitations and, what is particularly important for our new players, will also suggest some guilds to join: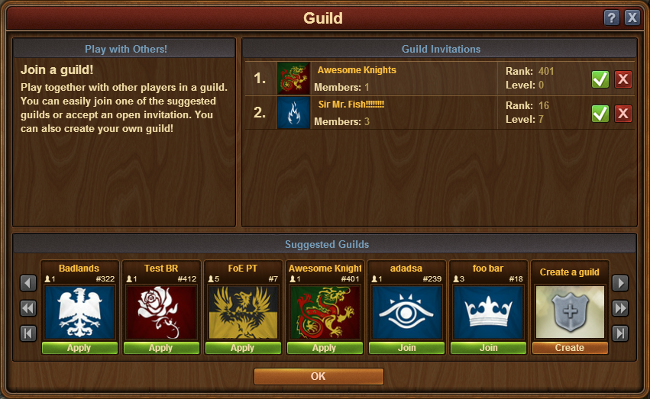 Last, but not least, we have moved the guild profile edit options directly to the profile screen: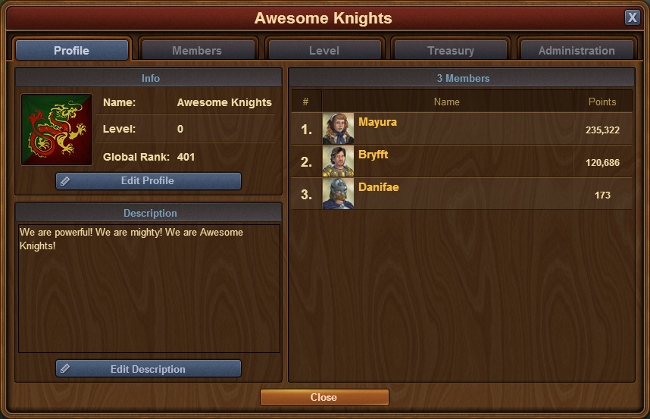 Have fun exploring the revamped guild invitations/joining/administration screens! Feel free to share any feedback with us, we'd love to hear it
.
Other changes
Various small improvements were done to the tutorial.
When visiting a city, the chosen social interaction will remain highlighted after clicking it.
A pop-up info window will show up when trying to sell town hall.
Bugfixes
Sometimes tournaments were not starting for players who came back to the game after longer inactivity.
The 'enthusiastic' icon in the buff panel was missing when the 'motivate all' and 'collect all' options were both unavailable.
Some animations were not loaded when using DirectX.
Construction timer was hard to read after zooming the city view out.
It was sometimes impossible to donate Forge Points to Alcatraz, because the "Enter Great Building"-button in "Collecting Impossible" pop-up hasn't been working as expected.
Previews of the news' texts on the login page were always showing the entire text and not just a few lines.
Thank you for your support and for playing Forge of Empires! Have a good time with the new features and content!
Sincerely,
The Beta Team