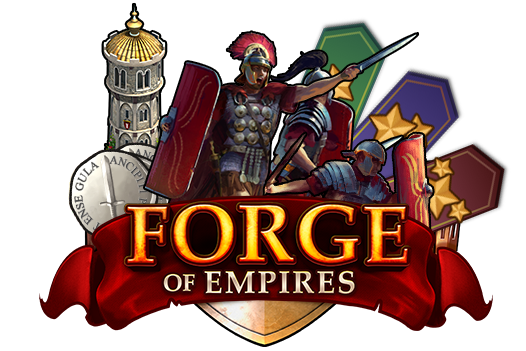 Hello Kings & Queens,
We are bringing you an improvement that our developers have been working on for quite some time: The PvP Arena!
The PvP Arena is a new feature that will replace the current PvP Tower Tournament. The reason for this change is because we want to provide a more meaningful and competitive experience for our PvP players. To achieve this goal, our team created a brand new, off-grid accessible building, and a new window with exclusive information about this new PvP functionality. Besides that, the PvP Arena also features rewards, its own battle logs for previous confronts, and a dedicated ranking window. Without further ado, we hope you enjoy the new PvP Arena.
The PvP Arena will be activated on July 13th, 2020 . This will also result in the deactivation of PvP Tower Tournament.​
Upon researching the 'mercenaries' technology in the tech tree (available in Early Middle Ages), you will be redirected to our PvP Arena onboard's info screen, which will present basic information about the new feature. When you close it, you will be able to access the PvP Arena through the entry-point in our new off-grid building.
When accessing the new window, you will come across three tabs: Battle, Ranking, and Log. In the "
Battle
" tab, you can see a list of opponents, subdivided into four columns:
The first column (Level) represents the level of difficulty of your opponents, ranging from 1 to 3 stars. Green flags (

) with one star represent easy battles, while blue ones (

) with two stars would be of a medium level, and finally, the red ones (

) with three stars are the most challenging opponents.
The second column (Opponent) shows your possible targets, presenting information such as their current eras, as well as attack and defense bonuses for their defending units.
The third column (Points) will show how many ranking points you will receive upon beating this opponent. Remember that the more difficult the challenge, the higher is the amount of Combat Points (

) at stake. In other words, you gain CP and may potentially rank up when winning, or you can also lose CP and rank down. That said, make sure to choose your opponents wisely.
Finally, the last column (Attack) offers you three buttons to battle any chosen opponent. Battling them will consume your attempts (

), which appear at the top of your screen. Altogether you have 5 attempts, and after each battle, it's necessary to wait 4 hours until an additional attempt is renewed. Nevertheless, by clicking in the + button, it is possible to purchase additional attempts with premium currency, with a maximum limit of 10 purchases per day.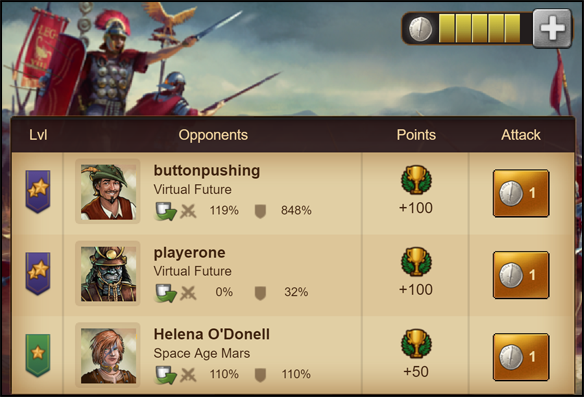 In case the game cannot find an opponent of your level, we will provide you with lower level opponents or even NPCs for you to battle.
Attacking vs Defending
​
Attacking is an active action while defending is a passive one. Attempts and Units are not lost while defending, but you can still gain or lose Combat Points (CP) as a defender, and If you end up a Weekly Arena with less CP then when you have entered, your CP will be reset to the entry amount when the league is over. Please be aware that attacking someone will automatically shuffle your list of available opponents, no matter if the battle was won or lost.
Besides that, there's no manual battle mode, which means that both attacking and defending actions are fought through auto-battles, with the units you select for attacking and defending. The PvP Arena will also enable your Great Buildings passive skills (Advanced Tactics, Fierce Resistance, Military Boost, and Spoils of War), but not the active ones (Critical Hit, First Strike and Missile Launch).
The ranking is defined by the amount of Combat Points (CP) compared to the other players. Upon opening the ranking tab, it will display the ranking for the weekly PvP Arena in progress. This way, you can keep track of both your progress and your opponents' progress.
Last but not least, the "Log" tab will show your results from the last battles (attack and defense), as well as the time the event happened and how many points you earned or lost. With this info, you can have better strategic control over which opponents are worth fighting or simply avoiding, but remember that these logs are reset together with the Weekly Arena every Monday!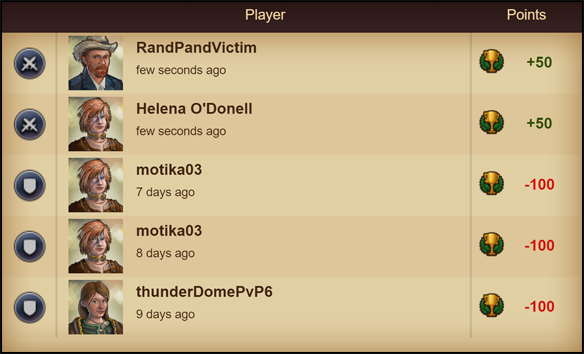 Finally, you have some important information at the right corner of the screen: Your ranking points, followed by your attack and defense boosts, both for your attacking and defending units. Then, you have two buttons at the bottom: The first one (
Your Arm
y ) allows you to assign your attacking units and attach your defending ones (

).

The second button (
Weekly Reward
) will show your position in the current ranking and the rewards (

) you can obtain based on your position. Please keep in mind that this a weekly ranking, and that all rewards are always given on Mondays. In case you were not an active participant in the previous PvP Arena session, you will not receive any reward. Also, being inactive for two consecutive weeks will automatically kick you from the upcoming PvP session, unless you manually sign up by yourself.

Should you have any comments, questions, or issues, please let us know! We're looking forward to your
feedback
Thank you for playing Forge of Empires!
Sincerely,
Your Forge of Empires Team Beta